Both suppliers and receivers of a digital image file need to see the same picture on their monitors. This requires setting up systems to display standardized consistent color in a way, and using color profiles in images to describe their color characteristics. The first step is to set computers and monitors to display accurate color.
How to set up your system to display correct color: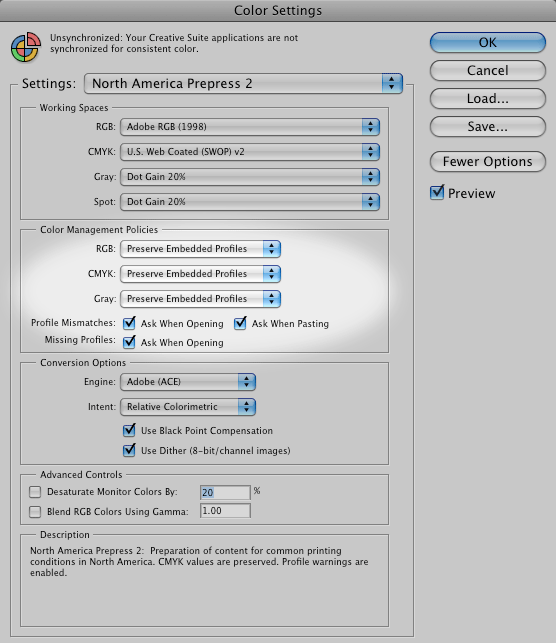 Step 1. Configure Adobe Photoshop's "Color Settings" to Preserve Embedded Profiles. In addition, check the boxes that will cause Photoshop to warn of profile mismatches or missing profiles when opening or pasting files.

If Photoshop presents the Embedded Profile Mismatch warning, choose Use the embedded profile.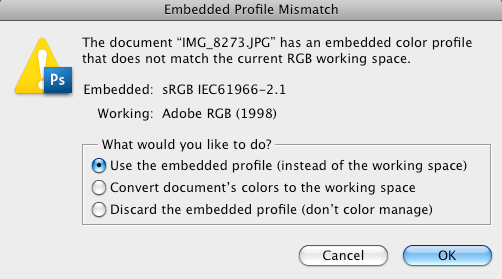 Step 2. Calibrate and profile your monitor.

Calibrate and profile monitors with a hardware device. Visual calibration is inadequate for professional image editing. Accurate visual representation of the image file is extremely important to the imaging process. Calibration standards range from:
Gamma — 1.8 to 2.2 (or L*).

White point — 5000K to 6500K.

Brightness levels — 80cd/mē to 140 cd/mē.

As a general calibration guideline for both Windows and Macintosh systems, use gamma 2.2 and choose an appropriate color temperature between 5000K and 6500K. If preparing files for offset printing, you will find most printers and prepress professionals use 5000K to 5500K. When preparing files for the web, 6500K is probably the best choice, since most consumer-grade monitors are set to higher color temperatures. Choose an appropriate monitor brightness level according to the room's ambient lighting before beginning your calibration.

Paired with accurate, embedded color profiles, a calibrated and profiled monitor allows you to "soft-proof" the intended output in Adobe Photoshop. A daylight (D50) light source at correct brightness helps visually match monitor to print. To achieve correct brightness, lower the luminance of the light source (viewing booth) to match the luminance of the monitor.